The government is proposing to restrict subsidies and introduce medium-term expenditure management framework to contain fiscal deficit, Parliament was informed on Thursday.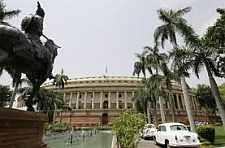 "Government has proposed to introduce Medium-term Expenditure Frame Work Statement, setting forth a three year rolling target for expenditure indicators.

"This is with a view to undertaking a de-novo exercise for allocating resources for prioritised schemes and weeding out others that have outlived their utility," Minister of State for Finance Namo Narain Meena said in a written reply in the Rajya Sabha.

He said the proposed move would encourage efficiency in expenditure management.

"Government also endeavours to restrict the expenditure on central subsidies. Similar steps are expected to be continued in the coming years to contain the fiscal deficit," Meena added.

The government's move to control expenditure comes in the backdrop of the fiscal deficit reaching over 50 per cent of the target for the whole year of 2012-13.

In absolute term, fiscal deficit -- the gap between revenue and expenditure -- stood at Rs 2.64 lakh crore in the April-July period.

Earlier this year, to rationalise finances, the government had imposed a 10 per cent cut in non-plan expenditure and restrictions on foreign travels, among other things.

The Centre hopes to bring down the deficit to 5.1 per cent of GDP in the current fiscal, from 5.8 per cent in the previous year, but the task seems difficult in view of rising oil, food and fertiliser subsidy bills.

A government appointed committee, headed by former chairman of Finance Commission Vijay Kelkar, has submitted its report suggesting a roadmap for fiscal consolidation.