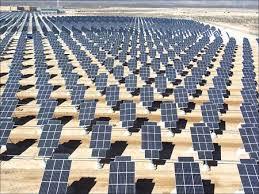 The Centre might not impose any duty on solar energy equipment imports, as the deadline for taking a decision on anti-dumping duty by the finance ministry has already lapsed.
Such a decision would provide relief to domestic solar power producers but would end up disappointing the domestic solar cells manufacturers, who have been fighting this case for over two years now.

According to government officials, the three-month deadline for the finance ministry to take a decision on the recommendations of the commerce ministry ended this week.

"So, technically, the duty has lapsed. But there has been no official notification from the finance ministry, hence the ambiguity still remains," said senior power ministry official.

The government slapped dumping duty on solar gear imported from the US, China, Malaysia and Taiwan in June on a case filed by domestic manufacturers in January 2012.

The Directorate General of Anti-Dumping, in its final findings, recommended anti-dumping duties of up to $0.48 per watt on solar cells coming from the US and 0.81 per watt on Chinese.

Officials at the ministry of new and renewable energy also declined receiving any notice from the finance ministry. Neither any judgement was uploaded by same.

The party in this case, solar cell manufacturers and power developers also refused receiving any update from either of the ministry on same.

MNRE officials and solar power producers were apprehensive about the huge number of projects getting stuck due to price escalation if a duty was to be imposed.

More than 70 per cent of the projects across the country are built on imported solar cells and around 4,000 Mw was tendered recently.

This includes 375 Mw tendered out in the second phase of the National Solar Mission in January this year.