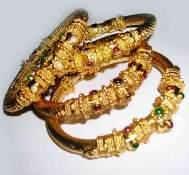 The government on Friday slashed import tariff value of gold to $507 per 10 grams and of silver to $871 a kg following fall in global prices of the precious metals.
The tariff value, which is released fortnightly, is the base price on which the customs duty is determined to prevent under-invoicing. Earlier, the tariff value of gold stood at $524 per 10 grams and silver at $938 a kg.
The Central Board of Excise and Customs (CBEC) issued a notification in this regard, an official release said. After crude oil, gold is the most imported commodity in India [ Images ] in terms of value. At present, import duty on gold and silver stands at 4 per cent and 6 per cent of the value, respectively.
In global markets, gold fell to the lowest level in almost four weeks amid signs of slowing US growth and strengthening of dollar on speculation that European Union leaders will struggle to solve the debt crisis, silver slumped to the lowest level in 19 months.
In New York, gold dropped 1.8 per cent to $1,550.40 an ounce, the largest decline since June 21. Silver also shed 2.6 per cent to $26.10 an ounce, the lowest since November 18, 2010.
India, the world's biggest consumer of gold, imported 967 tonnes of gold in 2011.