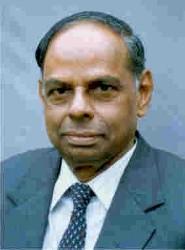 Indicating better economic outlook in the second half, Prime Minister's Economic Advisory Council Chairman C Rangarajan on Monday expressed optimism that the government would be able to meet the fiscal deficit target of 5.3 per cent for the current fiscal.
"I think fiscal deficit will be around 5.3 per cent of gross domestic product as indicated by the Finance Minister," he said on the sidelines of Delhi Economics Conclave in New Delhi.
Although the government had pegged fiscal deficit for the current financial year at 5.1 per cent of the GDP in the budget, it has revised the target to 5.3 per cent in view of subdued revenue collection and rising fuel and food subsidy bills.
"I think second half will be better than the first half. We think that the growth rate in the current fiscal will be between 5.5 and 6 per cent," he said.
The former Reserve Bank of India Governor also expressed hope that there would be further improvement in growth during the next fiscal.
Growth in the first half of 2012-13 has fallen to 5.4 per cent, from 7.3 per cent in the same period last fiscal.
For the entire 2011-12 fiscal, the growth had declined to 9-year low of 6.5 per cent. The Reserve Bank, meanwhile, expects growth at 5.8 per cent in the current fiscal.
Rangarajan said "the average per capita GDP today is only $1,600. If we grow at 8-9 per cent, by 2025 we will reach somewhere around $10,500.
"It is only then when India will graduate from a low income country to middle income country".
Therefore, he said, it is important for India to grow at a much faster rate.
Image: C Rangarajan