'You need to be careful about this.'
'Growth without fundamental principles is like fat.'
'Growth with good base and fundamentals is like muscles.'
Illustration: Uttam Ghosh/Rediff.com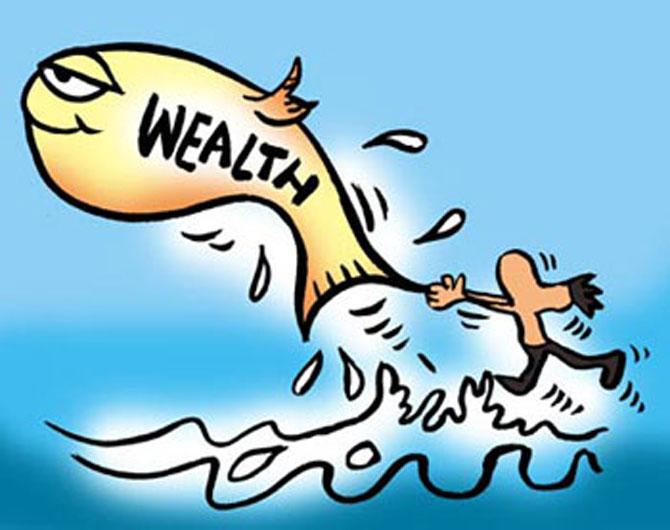 C B Bhave, former chairman, Securities and Exchange Board of India and the chief guest Business Standard Fund Café 2017, applauded the quality of growth and geographical penetration shown by the mutual fund industry in the past three years.
"Growth without fundamental principles is like fat. Growth with good base and fundamentals is like muscles. I am glad that the MF industry has muscle and not just fat," said the 66-year-old former Indian Administrative Service officer, highlighting sharp growth in assets shown by the domestic asset-management industry.
The assets under management of the industry have doubled in the past three years to Rs 20 lakh crore and the growth from beyond the top 15 centres has outpaced industry growth rate.
"I've come into a room where I see smiling faces. Normally, the environment used to be a bit tense whenever I got into the room. It's a nice break from that," Bhave, famous for abolition of entry loads.
"During the financial crisis the MF industry was in real trouble," Bhave, who took charge at Sebi just after the crisis broke, pointed out, "There were lots of tense moments. But then we learnt how the regulator and industry can work together to come out of the woods."
Bhave applauded the MF industry's efforts to address investors beyond the country's top cities, but said there was a long distance to cover yet.
"India is vast; it is not just the cities and towns. We need to reach this India; the challenge is to manage cost and yet be able to reach them. I think technology should help tremendously," he said evoking similar emotion as he did during his Sebi days between February 2008 and February 2010.
During this leadership, the market regulator took several crucial measures impacting the MFs, most of them were aimed helping the end investor.
"The issue at heart was the people selling MF schemes, whose agents were they? Were they agents of investors or of AMCs (asset management companies)?" he recalled.
"I am very happy to see that the industry has come a long way from the debate. We have virtually separated commissions from advisory fees. We still have some distance to go," he said.
Bhave urged fund managers to tread with caution at a time when there is too much exuberance in the market.
"It is not easy to see failure during good times. Good times also invite managers to take excessive risk. You need to be careful about this," he said.
Bhave acknowledged the industry for performing their duty as a shareholder by actively voting at resolutions proposed by listed companies.
He also said the growth in investor accounts was encouraging, but pondered how many unique individual investors were behind these 55 million folios.
He asked the industry to work with the regulator and reduce the number of me-too schemes as it will simplify investing.
Bhave asked the industry to take up an active leadership role and not just follow regulatory diktats.
He illustrated this by saying the industry should go to Sebi and ask for the data on cancelled permanent account numbers and see if any of them were present in their database of investors.
"The difficulty with taking leadership is in the short run may be harmful to you because you may as an industry be seen as too proactive to eliminate the people who are bringing money to you," Bhave said. "But that's the right attitude you need to grow with good money."