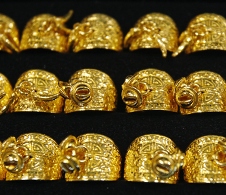 Gold slumped by Rs 260 at the domestic bullion market on Thursday due to a fresh wave of profit taking by investors and traders amid reduced stockist demand.
The metal had gained Rs 1,115 in the recent pullback rally, fueled by buoyant global sentiment on easing worries about winding down US Federal Reserve's stimulus plan along with measures implemented by the RBI to curb demand for the metal to control widening current account deficit.
Silver also plunged, falling below the key Rs 42,000 per kg mark due to consistent unwinding from speculators.
Standard gold of 99.5 per cent purity dropped Rs 260 to conclude at Rs 27,505 per 10 gm from Wednesday's closing level of Rs 27,765.
Pure gold of 99.9 per cent purity shed Rs 255 to end at Rs 27,645 per 10 gm from Rs 27,900.
Silver ready (.999 fineness) tanked Rs 825 to finish at Rs 41,520 per kg compared to Rs 42,345 on Wednesday.
Globally, the yellow metal remained under intense selling pressure for the second day on stronger dollar value and ahead of US weekly jobs data.
In London, spot gold was bid lower at $1,323.01 an ounce in early trade.