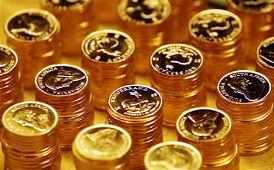 Surpassing all previous records, gold scaled to a new peak of Rs 34,500 per ten gram in the bullion market on Wednesday as the rupee hit a new intra-day record low of 68.75 per dollar amid a firm global trend.

However, late selling by stockists reduced the initial gains and the yellow metal closed with a biggest ever single-day gain of Rs 1,900 to Rs 33,900 per ten gram, surpassing the previous high of Rs 32,975 on November 27 last year.

Silver also registered a steepest rise of Rs 3,700 to Rs 58,500 per kg on increased offtake by industrial units and coin makers.

The rupee has been witnessing an unprecedented plunge in its value as it dropped to an all-time intra-day low of 68.75.

"The bullion demand has got a boost as rupee hit fresh record low and equities tumbled, leaving no place for investors but to park funds in gold as a safe-haven,"
Surender Jain, Vice President, All India Sarafa Bazar told PTI.
He said the yellow metal climbed to over three-month high in global markets as speculation that the US could lead military action against Syria within days spurred investors' demand for a haven.
The gold in Singapore, which normally set price trend on the domestic front here, rose by 1.3 per cent to 1,433.83 dollar an ounce, the highest since May 14 and silver by 2.6 per cent to 25.10 dollar an ounce, a highest since April 15.
On the domestic front, gold of 99.9 and 99.5 per cent rallied by Rs 1900 each to Rs 33,900 and Rs 33,700 per ten grams respectively.
Sovereign also shot up by Rs 300 to Rs 25,500 per piece of eight gram.
In a similar fashion, silver ready surged by Rs 3700 to Rs 58,500 per kg and weekly-based delivery by Rs 3900 to Rs 59,000 per kg.
Silver coins too spurted by Rs 3000 to Rs 92,000 for buying and Rs 93,000 for selling of 100 pieces.