Gold demand in India, the world's biggest buyer of the metal, improved on Friday as prices in the spot market fell to a near four-month low, luring jewellers preparing for the wedding season.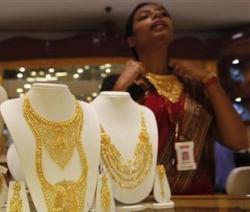 The yellow metal was trading around Rs 30,638 per 10 grams, the lowest since August 30, in the spot market.

"Jewellers are active in the market. Investment demand is still weak," said a Mumbai-based dealer with a state-run bank.

"Gold is trading above Rs 30,000. If it falls below Rs 30,000, then we can see a significant improvement in retail demand. Sentiments will change," the dealer said.

The wedding season
will continue till early January and gold is an important gift item at marriages.
The actively traded gold contract for February delivery on the Multi Commodity Exchange was 0.85 percent higher at Rs 30,740 per 10 grams as of 1020 GMT, after falling to Rs 30,370 on Thursday night.
The rupee, which fell nearly 1 percent on Friday, plays an important role in determining the landed cost of the dollar-quoted yellow metal.
Overseas gold slipped, holding near a four-month low hit in the previous session and on track for its steepest weekly drop since June, as the euro softened and US talks to avoid a fiscal crisis stalled again.
March silver contract was up 0.98 percent at Rs 57,915 per kg.