Even as the government is taking measures to curb gold consumption, the import of yellow metal is projected to go up to about 215 tonnes in the first quarter this year amid decline in international prices and rise in demand, a trade body said Friday.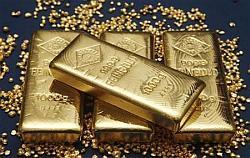 The country had imported 207 tonnes of gold in the March quarter last year.

"We expect gold imports to be around 215 tonnes in the January-March period due to rise in demand and declining prices," Bombay Bullion Association President Mohit Kamboj told PTI.

He said gold imports went up by 11.11 per cent in January to about 90 tonnes compared to 81 tonnes in the same month last year amid speculation that customs duty on yellow metal would be hiked.

According to him, imports in February and March would be around 125
tonnes.
Despite the recent hike in import duty on gold to six per cent effected on January 21 against 4 per cent earlier, the gold prices are currently ruling at around Rs 30,100 per 10 gm against Rs 32,000 in December following decline in international prices and appreciation in rupee.
The hike in customs duty has not made any negative effect on demand mainly due to declining prices, Kamboj said.
The country's gold demand had dipped by 12 per cent in 2012, to 864.2 tonnes from 986.3 tonnes in 2011, mainly on account of jewellers' strike over certain budgetary measures and sharp rise in domestic price, according to the World Gold Council Demand Trends Report.