The Wadia Group-promoted budget carrier Go Airlines (India [ Images ]), or GoAir, is gearing up to launch international operations by the end of this financial year or early the next.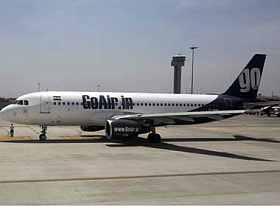 Chief Executive Officer Giorgio De Roni said: "The Government of India has stipulated domestic carriers can go abroad only if they have at least 20 aircraft. Currently, we have 13, and another seven would be delivered by July 2014. We have applied to the government for waiver of this norm so that we can start services on international routes. We are confident of securing the relaxation sometime this year."

He said the company had a fleet of Airbus A320, which could fly non-stop for five hours and potential international destinations would be selected keeping that in mind.

For the time being, the company has identified select routes in Southeast Asia and the Gulf countries. Roni said once the government approved its application, the airline would also consider starting flights to Singapore, Sri Lanka [ Images ] and Nepal.

Addressing a press conference to announce the launch of the company's Bangalore-to-Goa operations from August 21, as well as it's thirteenth aircraft today, Roni said GoAir was in talks with investors for additional funding, provided the government approved foreign direct investment (FDI) in the aviation sector.

"Currently, we are well funded and do not need any cash for expansion. If FDI is allowed, we might consider proposals, as some investors have shown interest in our model. We are waiting for the government's approval and the legal framework for FDI," he said.

He added the company was looking at carrying about five million passengers this financial year, against three million in 2011-12. "There was a drop in demand for all carriers put together in June and July this year, compared to the corresponding period last year. However, we expect a revival in demand for air travel in the remaining months of the year. We are also confident of increasing our market share from seven per cent to nine per cent by March 2013," he said.

Recently, GoAir had signed a 10-year contract with Lufthansa Technik for supply and maintenance of parts for 20 Airbus A320 classic and 72 Airbus 320 aircraft, which would be included in its fleet by 2016.

The airline operates flights to 22 destinations, with 707 no-stop and about 2,000 connecting flights every week. It is set to add another aircraft to its fleet by the end of this year.

Roni said the high airport taxes charged by the Delhi [ Images ] airport was a concern for airlines and these would disrupt expansion plans of several airline companies, including GoAir.

"Delhi airport is one of the most expensive airports in the world, and we are thinking twice before expanding our operations from there," he said.