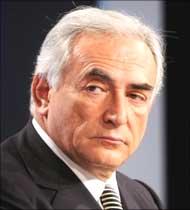 The International Monetary Fund has said that the current global economic recovery is not creating enough jobs.
"One year ago my concern was we may have a recovery without jobs. It would be too much to say it is a jobless recovery, but it is certainly a recovery with not enough jobs," said IMF Managing Director Dominique Strauss-Kahn, at a press conference in Washington, DC, on Thursday.
"So the question now is jobs, jobs, jobs. What does that mean?" he questioned, adding, "For most people around the world, if you have a recovery in terms of macroeconomic figures that doesn't translate in any way to jobs, and again, the example of Tunisia, Egypt, and from this point of view, where the macroeconomic figures are not bad, but the people don't feel any change in their situation," he said.
Strauss-Kahn further said that there will be a lot of challenges to deal with, especially because of youth unemployment.
"For the young what was seen at the beginning as just a transitory period, meaning that it will take some time for them to reach the labour market and to be able to find a job, there
is now risk that this will be turned into a life sentence, and the possibility of a lost generation that I already mentioned a month ago could materialize," he said.
The official said that the challenge is to preserve social cohesion without undermining the macroeconomic stability and IMF is standing ready to help "especially in the Middle East where this question is probably more urgent than in other countries".
Referring to the upcoming meetings of the G-20 and the International Monetary and Financial Committee, Strauss-Kahn exuded confidence that a collaborative way to restore sustained growth and more balanced growth will emerge from this discussion.
He said that the common knowledge, for a very long time, has been that if there is growth, there are jobs.
"What we have learned is that it is not that easy, and that, too. Of course, you need growth. No question about it.
But, you need also the right labour market policy to be put in place," the official said.
"Without this kind of policy, which has to do with education, training, unemployment benefits... you may have this risk of having growth without having enough jobs," Strauss-Kahn said.