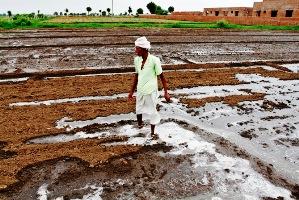 Financial research and analysis firm ZyFin said India's gross domestic product grew 5.4 per cent in November 2013 on a year-on-year basis, compared to 5.2 per cent y-o-y growth in October 2013.

This is the second-highest monthly growth since January 2012, when the economy expanded 5.7 per cent, ZyFin said in a statement on Thursday.

It noted the growth showed an uptrend for a sixth consecutive month.

Interestingly, official data showed that industrial production contracted 2.1 per cent in November 2013.

India's economy grew only 4.8 per cent in the second quarter of the current financial year, the fourth straight quarter to show a below five per cent growth. Policy makers are looking for green shoots of recovery, which have so far remained elusive.

In this context, ZyFin figures might provide comfort to the government.

Debopam Chaudhuri, vice-president (research) at ZyFin, said: "The intensity and sustainability of the likely economic upturn depends largely on a recovery in consumer demand."

ZyFin attributed the uptick in services in November to early signs of improvement in the services sector, the biggest contributor to India's economy. In the second quarter, services had pulled down GDP growth.

The services sector grew 5.7 per cent in the July-September 2013 quarter -- a 12-year low -- against 6.2 per cent growth in the April-June 2013 quarter and 7.1 per
cent during the same period in the previous year.
The widely-tracked HSBC purchasing managers' index showed that services activities contracted for the sixth month in a row in December 2013.
However, PMI is calculated on a month-on-month basis unlike official data, which is calculated on a y-o-y basis. ZyFin provides both kinds of data.
According to ZyFin's calculations, on a month-on-month basis, GDP grew 4.9 per cent in November 2013, compared to 4.8 per cent in the previous month.
Quite contrary to the one calculated by the government, inflation declined in November, though at a lesser pace. It fell to 7.4 per cent from 7.5 per cent in the previous month.
During the same period, wholesale price index-based inflation increased to 7.52 per cent from 7.24 per cent, while consumer price index-based rate of price rise surged to an all-time high of 11.16 per cent from 10.17 per cent.
However, the WPI inflation fell to 6.16 per cent in December and CPI inflation to 9.87 per cent.
ZyFin also said early estimates suggest inflation for December 2013 would be lower at 7.3 per cent.
ZyFin uses GDP price deflator for estimating inflation and claims it is a more comprehensive measure.
Surjit S Bhalla, senior adviser, ZyFin Research, said: "In addition to growth, the big story for the Indian economy is inflation. In our December report, we had suggested that inflation had peaked in October. . .
The next few months will tell whether the six-year era of high inflation is coming to an end."