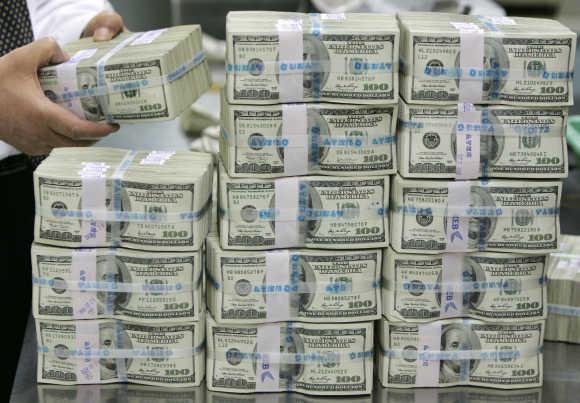 After falling for two consecutive weeks, foreign exchange reserves marginally rose to $319.39 billion, up by $43.3 million, for the week, driven by an increase in foreign currency assets.
Reserves had fallen by $643.3 million to $319.347 billion in the week to August 8, while it had dropped by $573.5 million to $319.99 billion in the week to August 1 after touching close to the life-time high of $321 billion in the previous week.
Foreign currency assets (FCAs), a major constituent of overall reserves, increased by $54.7 million to $292.101 billion for the week ended August 15, the Reserve Bank of India said in its weekly statement.
FCAs, expressed in dollar terms, include the effect of appreciation/depreciation of the non-US currencies such as the euro, pound and yen held in reserves.
Gold reserves remained unchanged at $21.173 billion in the reporting week.
The special drawing rights were down $8.3 million to $4.416 billion, and India's reserve position with the IMF dipped $3.1 million to $1.699 billion during the week, the apex bank said.