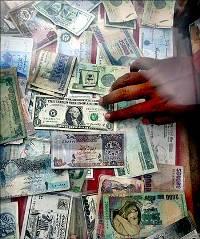 Foreign exchange reserves continued their rally for the fourth consecutive week, swelling by $1.35 billion to $298.64 billion on a surge in currency assets even though the reserve position with the IMF slid heavily, the Reserve Bank said on Friday.

The total foreign exchange reserves had increased by $1.838 billion to $297.28 billion in the previous reporting week.

Foreign currency assets, a major part of the overall reserves, rose $1.58 billion to $271.40 billion for the week ended March 21, the RBI said.

Foreign currency assets, expressed in dollar terms, include the effect of appreciation/depreciation of the non-US currencies such as the euro, pound and yen held in its reserves.

The gold reserves remained unchanged at $20.978 billion as per the data.

The special drawing rights were down by $16.9 million to $4.462 billion, while the country's reserve position with the IMF was down by a whopping $214.7 million to $1.801 billion, the apex bank said.
Image: A currency dealer displays various currencies at his roadside money changer stall. Photographs: Athar Hussain/Reuters