India's foreign exchange reserves declined for the second consecutive week to $295.50 billion, down $12.6 million, in the week ended December 20, the Reserve Bank said.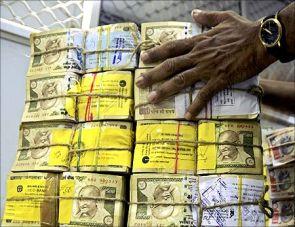 After five weeks of gains, courtesy special swap window opened by RBI, the reserves had declined 192.8 million to $295.51 billion in the previous reporting week.

Foreign currency assets (FCAs), which form a major part of the overall reserves, decreased by $94.7 million to $268.469
billion for the week under review, it said.
FCAs, expressed in dollar terms, include the effect of appreciation or depreciation of the non-US currencies such as the euro, pound and yen, held in reserves.
During the week, the gold reserves were unchanged at $20.603 billion, the apex bank said.
The special drawing rights declined by $9.1 million to $4.431 billion, while there was a $91.2 million spike in India's reserve position with the IMF at $1.999 billion during the period, the RBI data showed.