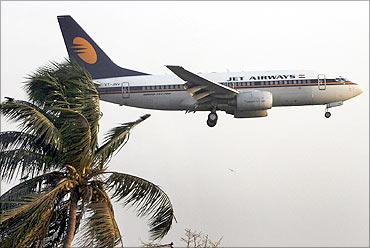 After allowing FDI by foreign carriers in their Indian counterparts, the government has put in place provisions to prevent Indian airlines from being controlled and managed by the foreign investor.
Several changes have been carried out in the existing rules or Civil Aviation Requirements (CARs), including one which clearly states that a passenger airline "shall not enter into an agreement with a foreign investing institution or a foreign airline, which may give such foreign investing institution or foreign airlines or others on behalf of them, the right to control the management of the domestic operator."
It also says that the foreign investing institution or entity including a foreign airline would not have more than one-third representation in the Board of the Indian carrier, official sources said.
The amendments to the relevant CARs came in the wake of fair-play regulator Competition Commission of India stood by its observation about Abu Dhabi carrier Etihad gaining joint control in Jet Airways and "significant" rights to appoint directors with a 24 per cent stake purchase.
Apart from these amendments, the government also tightened the norms for companies planning to launch an air carrier to ensure that they have the necessary financial backup and commitment to enter aviation business, they said.
These changes came as two airlines - Kingfisher and Paramount - went bust. The changes in the existing CARs included that the entire equity amount would have to be available a company which wants to start an airline, at the time it applies for a No-Objection Certificate from the Civil Aviation Ministry.
At present, the paid-up capital required by a company which plans to fly large aircraft (over 40,000 kg) is Rs 50 crore. For those which want to fly planes having less than 40,000 kg weight, the amount is Rs 20 crore.
The amended CAR says that full equity as required should be available with the company at the time of initial NOC to demonstrate their commitment, seriousness and genuineness.
It also says there may be no need for further enhancement of equity if the paid-up equity or reserves of Rs 100 crore was available with the airline.
The amended rules also say that all foreign nationals, including top officials like Chief Executive Officer, Chief Financial Officer or Chief Operating Officer, would require to be security vetted by Home Ministry.
The changes which have been made in the CAR are part of a long-drawn process being carried out by the ministry to tighten rules to allow financially-strong companies only to enter the civil aviation arena, the sources said.