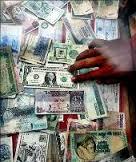 Despite the promise of 'near-national treatment' from the Reserve Bank of India, foreign banks in India are unsure of forming subsidiaries in Kolkata.

The central bank's statement on subsidiarisation has failed to do away with the uncertainty on the new structure; foreign lenders continue to wait for the guidelines before deciding on the mode of their presence.

"There was nothing new said yesterday (Tuesday). Earlier, RBI had already clarified subsidiarisation wouldn't be made mandatory.

The promise of near-national treatment has also been made in the past. We will need to see the final guidelines to decide if subsidiarisation makes sense," said a senior executive at a mid-sized foreign bank in India, requesting anonymity.

The guidelines are expected in a couple of weeks, more than two years after RBI released its discussion paper on the presence of foreign banks in India.

The new norms would be guided by the two cardinal principles of reciprocity and a single mode of presence, the central bank said.

While it wouldn't be mandatory for existing foreign banks -- those that entered India before August 2010 -- to convert into wholly-owned subsidiaries, RBI aims to incentivise these to opt for this model, with near-national treatment, including in the opening of branches.

In the second quarter review of the monetary policy, RBI Governor Raghuram Rajan stressed the subsidiary route for foreign banks.

"The idea is to move all systematically-important foreign banks into wholly-owned subsidiary.

"That is very important because if you don't do that, transactions with the parent is not at an arm's length.

"We have decided to give some incentive, near-national treatment, to foreign banks that convert these into wholly-owned subsidiaries," Rajan said.

Foreign lenders are present in India only through branches or representative offices. As of March, 43 foreign banks were operating in the country through a network of 333 branches; 47 were present through representative offices.

According to its commitment to the World Trade Organization, India has to allow 12 new foreign bank branches in a year.

A couple of months ago, the central bank had said it expected foreign banks that were systemically important by the virtue
of their balance sheet size to voluntarily opt to convert their branches into subsidiaries.
However, it appears not many are convinced.
"The good thing is subsidiarisation wouldn't be made mandatory.
"For us to create subsidiaries, there have to be enough incentives.
"A liberal branch licensing policy alone wouldn't persuade us to set up a subsidiary.
We will have to see the guidelines to know whether such a model will benefit us," said the retail banking head of a large European bank in India.
"He added having more branches wouldn't necessarily ensure foreign lenders would be able to earn higher revenues or meet priority sector lending targets.
"On the other hand, subsidiarisation would require more capital and greater local governance. Probably, foreign banks would have to set up a board here, with independent directors."
For the proposed subsidiaries of foreign banks in India, RBI has prescribed at least Rs 500 crore (Rs 5 billion) of initial paid-up capital.
Bankers said apart from allowing foreign lenders to open branches freely across the country, the central bank should also allow them to acquire Indian private banks.
"It could encourage some large global banks to set up subsidiaries in India," said a banker.
Current regulations do not allow foreign lenders to acquire a domestic bank.
A few bankers said taxation issues related to subsidiarisation hadn't been resolved yet, though most were confident these would be sorted.
"There are still some tax-related issues that need resolution, and I think these would be resolved. . .We will have to wait for two weeks to see what near-national treatment means," Naina Lal Kidwai, director for Asia-Pacific region and country head for India, HSBC, told a television channel on Tuesday.
Some bankers expressed disappointment that RBI wasn't considering a 'dual model' for the presence of foreign banks in India.
In such a model, a bank is allowed to create a subsidiary for some of its businesses, while it is allowed to conduct other operations through a branch structure.
"We await the fine print in these guidelines, though we are disappointed RBI is not open to considering the dual model, which exists for foreign banks in several countries and has worked very well in those markets," Pramit Jhaveri, chief executive officer, Citi India.