As the shadow of governance deficit and corruption back home threatened to lengthen behind the glorious Davos sun, India's image managers launched a spirited damage control exercise on the penultimate day of the World Economic Forum (WEF).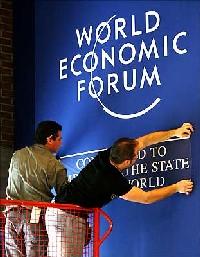 Commerce and Industry Minister Anand Sharma, for example, is livid with the way "sections of the media were trying to insult Mother India". The minister, who met chiefs of at least eight global corporations including Rio Tinto, HSBC and Walmart, said they were bullish about the spectacular economic performance of India. "Do you seriously believe anybody is concerned about governance deficit in India?", he shot back.

Home Minister P Chidambaram said the twin issues may be making headlines in Indian media, but he hasn't heard anybody here discussing these. "Their (foreign investors) main concern is the quality of India's infrastructure, which we are aware of and are trying to sort out," he said.

Planning Commission Deputy Chairman Montek Singh Ahluwalia, who in many ways was India's face at WEF (he addressed at least three sessions on an average, apart from countless TV interviews) said there was no point in making a big deal out of these issues, as they do not reflect any systemic problems.

Admitting that there were still some structural issues such as labour law reforms, education etc, that need to be sorted out, Ahluwalia said controlling inflation turned out to be more difficult than imagined.

But he hoped that food inflation, currently hovering at 15 per cent, would be reduced to single digit by the end of March. He agreed with the Reserve Bank's forecast of seven per cent inflation for the current financial year.

India Inc broadly agrees with that. TCS CEO & Managing Director N Chandrasekaran said he had met at least 30 of his top clients during the past four days, but hadn't heard anyone raise the issue of corruption in India." Bharti Group Chairman Sunil Mittal endorsed this as well.

"People are celebrating India. We in India are trying to talk more about our problems, but the world is seeing India as a great place to do business, great place to come and invest. Let us celebrate our successes, let's showcase those good things," Mittal said, adding he, however, was waiting for the last burst of reforms and the new telecom policy.

Anand Mahindra and Adi Godrej also plug their nation as a growth capital powered by democracy.

Observers said while, China was keen to continue using its financial clout to buy friends and influence clients, India has a more subtle approach.

The country is at pains to stress its message of "India Inclusive" - a variation of the "India Everywhere" campaign that won many hearts when India made its first big splash here five years ago.