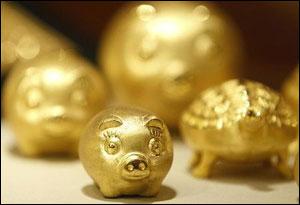 Finance Minister P Chidambaram on Tuesday said the government's restrictive policy on gold is aimed at moderating imports and increasing its supply by defreezing idle domestic stock.
"I only hope import of gold moderates. We do not have to spend so much foreign exchange to import gold," he told reporters when asked about the reasons for hiking import duty on gold from 4 per cent to 6 per cent.
Referring to the other measure of linking Gold Exchange Traded Fund (ETF) with Gold Deposit Schemes, Chidambaram said it is an attempt to unfreeze the gold stock and bring them back into circulation.
"If that gold comes into circulation, the jewellers will demand less of import of gold," he said.
Aimed at curbing gold imports and relying more on domestic supply, the government on Monday linked Gold ETF with gold deposit scheme.
The move will enable mutual funds to unlock their physical gold held in ETF and invest in gold-deposit schemes offered by banks.
"We want to unfreeze stock of gold in India and bring it back to circulation for which we announced some measures so that part of the gold stock lying unused is unfrozen and comes back into circulation.
"What we are trying to do is while acknowledging that people want to buy gold we are trying to moderate import of gold...," Chidambaram said.
Following the announcement of hike in duty by the government, gold prices have shot up by over Rs 300 to Rs 31,290 per 10 grams.
"As I said love for gold is a powerful factor in India," he said, adding that the government is not looking at any predetermined level of gold import.