Weak balance sheets due to hefty outgo of funds for new licences will reflect negatively on the 2013 outlook for the country's scam impacted telecom sector, credit rating firm Fitch said on Wednesday.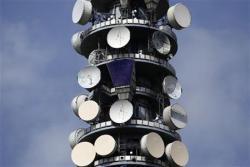 "The outlook for the telecom sector in 2013 is negative, reflecting expected weaker balance-sheets due to regulatory payments to re-acquire licences and continuing limited ability to raise tariffs, given the high level of competition," Fitch said in a research note.

Government decision to change spectrum-allocation policy from a fixed-cost regime to an auction of all existing and future spectrum assets will significantly raise the cost of licences and spectrum, which will weaken the credit metrics of most telecom firms, if funded by debt, Fitch said.

On February 2, the Supreme Court had cancelled 122 telecom licences on grounds of impropriety in policy implementation. They were allotted by the then telecom minister Andimuthu Raja in 2008 on first-come-first-served basis at throw-away prices to a few players despite having as many as 40 players waiting in line.

Subsequently, the apex court directed the government to re-auction all the 122 cancelled licences.

The government set the base price for auction for all-India spectrum at Rs 14,000 crore (Rs 140 billion), considered to high by the telecom firms. It could garner only Rs 9,704.64 crore (Rs 97.04 billion) on muted response from the industry.

Fitch said the top four operators by revenue market share - Bharti Airtel (Bharti, BBB-/negative), Vodafone, Idea Cellular and RCom - will have to pay significant amounts for a one-off charge for excess spectrum (above 4.4MHz) and re-farming as well as
future auctions of radiowaves.
Fitch believes payment of one-off charge by telecom firms and refarming costs will happen in 2013.
The credit metrics of the other four telcos are unlikely to improve significantly due to large capex needs, weak balance sheets, and more debt being incurred as they re-acquire their cancelled licences at significantly higher prices, Fitch said.
State-owned telecom firms (BSNL, MTNL) will continue to suffer operating losses due to high staff costs and subscribers with low average revenue per user, it said.
With the market expected to remain competitive, preventing any sustainable rise in tariffs, the ongoing industry consolidation is unlikely to reduce overcapacity in 2013, Ficth said.
Projecting only nine players to be in the sector in 2013, down from 13 at the start of 2012, Fitch believes that the sector can afford at most only six profit-making operators in the long-term.
Besides, the average revenue per minute - currently the cheapest in the world at 41 to 43 piase - needs to rise for the industry to become sustainable.
The top-four operators' Ebitda margins (2012 simple average of 28 per cent) are unlikely to improve much, due to a combination of competition, high initial 3G network costs and low Arpu for new users, Fitch report said.
Fitch believes that the top-four operators' Ebitda margins are unlikely to improve much, due to a combination of competition, high initial 3G network costs, and low Arpu for new users.
Also, Fitch believes that capex will run at around 20-25 per cent of revenue to meet rising demand, while the revenue in 2013 will rise only by the mid-single-digit, in line with subscriber growth which should go up by an average monthly net addition of 3-5 million.