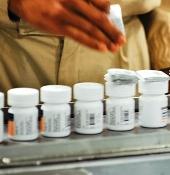 The Finance Ministry is not in favour of tightening of norms for foreign investors in already existing Indian pharmaceutical companies, a senior official said.

The Department of Industrial Policy and Promotion in its draft Cabinet has proposed to further tighten the rules for foreign direct investment in brownfield pharmaceutical sector.

They have proposed several steps, including reducing FDI cap to 49 per cent in 'critical verticals' of the sector from the current 100 per cent.

Critical verticals include injectable in oncology (cancer related).

"The Department of Economic Affairs is not in favour of DIPP's proposal.

"But despite that the DIPP would approach the Cabinet with its proposal," a senior DIPP official told PTI.

The official further said DIPP is awaiting comments of the Planning Commission.

On August 16, a high level-meeting chaired by Prime Minister Manmohan Singh took stock of the situation in the sector and asked DIPP to do consultations for making changes in the FDI policy to protect generic industry in the wake of increasing acquisitions of homegrown companies by foreign players.

The DIPP has also proposed issues like making it mandatory for multinational firms to invest a particular amount in R&D besides suggesting which all critical verticals in the sector can be retained only with the Indian companies in case of M&As.


"There has to be a commitment from foreign players that after acquisition they will create jobs too," the official said, adding that "the changes to be brought will prospective in nature.
The current policy is not serving its objectives and it needs to be changed in order to ensure affordable drugs to the general public".
Multinational companies, which are acquiring domestic firms, have spent less than one per cent of their total sales in R&D in India.
"They are doing only clinical trials in India and not actual drug development work," the official said.
The draft Cabinet note was aimed at preventing MNCs from changing product mix from generics to branded generics or patented ones after acquiring Indian companies, which could impact the cheapest price generic for the Indian population.
Over 96 per cent of the total FDI in the sector between April 2012 and April 2013 has come in brownfield pharma.
During April 2000 and May 2013, India has attracted foreign direct investment worth $11.31 billion, which is 6 per cent of the total foreign inflows.
A Parliamentary committee had suggested a 'blanket ban' on FDI in existing pharmaceutical companies saying the policy in the sensitive sector should be dictated by public good.