The aviation sector is upbeat, with Jet Airways [ Get Quote ] and SpiceJet recording profits in the quarter ended June and foreign institutional investors (FIIs) increasing their stakes in all the three listed carriers — Jet Airways, Kingfisher Airlines [ Images ] and SpiceJet.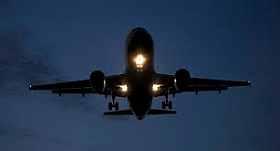 Stakes of domestic institutional investors, including mutual funds and insurance companies, were almost unchanged.

Mumbai-based Jet Airways, India's largest carrier in terms of the number of passengers, saw the stake of FIIs rise from 6.7 per cent in the quarter ended March to 7.12 per cent in the quarter ended June.

Kingfisher Airlines also recorded a rise in the stake of FIIs, which rose from 0.34 per cent to 0.98 per cent in the same period. The stake of FIIs in Sun Group-owned SpiceJet rose from 2.61 per cent to 3.51 per cent.

However, in the corresponding period last year, the stake of FIIs in SpiceJet was much higher— 10.16 per cent. In past one year, there were two rounds of fund infusion in SpiceJet by its promoters; 78.8 million shares were issued in two tranches.

Sharan Lillaney, aviation analyst at Angel Broking, says, "The increase in FIIs could be because of the structural changes the aviation industry is witnessing….Airlines are moving from the era of cut-throat competition to high ticket prices and increasing load factors. This is evincing a lot of interest from FIIs."

In Kingfisher Airlines, the promoters' shareholding saw a sharp decline — from 50.51 per cent in the quarter ended March to 35.86 per cent in the quarter ended June.

With debt being converted into equity and a fall in the promoters' shareholding, an increase in public holding was inevitable, Shah said.

Kingfisher Airlines' financial woes and the Air India [ Images ] employees' strike helped other airlines increase load factors and gain ticket-pricing power. In June, IndiGo's [ Images ] passenger load factor stood at 86 per cent, while for SpiceJet and Jet Airways, it was about 80 per cent.

Last year, the aviation sector had struggled with high costs of jet fuel, primarily because of high levies on the fuel and high airport charges, especially after private players started operating these.

The average tax on jet fuel in India is 24 per cent, second only to Bangladesh (27 per cent). Due to this, fuel costs account for about half the operating cost. In the past year, jet fuel prices rose 40 per cent.