A revival in the Indian stock markets seems to have begun attracting overseas investors, as Foreign Institutional Investors (FIIs) increased their stake in a majority of Sensex companies, including Infosys, HDFC and ICICI Bank, in the July-September quarter.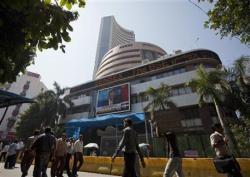 Most of the foreign entities trade in Indian stocks through FII route and data show that 17 of the 30 Sensex companies witnessed an increase in their respective FII holdings during July-September quarter of the current fiscal.

Amongst the 19 Sensex firms that have disclosed their latest quarter shareholding pattern, FIIs have reduced their stake in only two companies - Coal India and Hero MotoCorp.

The companies where FIIs raised their stake also include Infosys, HDFC, ICICI Bank, GAIL, Jindal Steel and Power, BHEL, HUL, L&T and HDFC Bank.

Market analysts believe that FIIs have adopted bullish stance on India's growth story and hiked their shareholding in blue-chip firms primarily due to various reforms initiative taken by the government.

"FIIs are betting on big corporates on account of reform measures undertaken by the government," Wellindia president (Research), Vivek Negi said.

Another market analyst, Sudip Bandhopadhyay MD and CEO at Destimoney
Securities said, "FIIs have not lost their charm for India and have been investing in the country throughout the calender year. I believe the trend would continue in the coming months as well."
The Sensex comprises 30 top stocks and is considered a barometer index of the Indian market. The average FII holding in these companies is about 22 per cent.
During the quarter, the largest increase in FII holding was recorded by housing loan major HDFC. The FII stake in HDFC rose from 66.74 per cent in April-June quarter to 68.72 per cent in the three months ending September 30, this year.
Also, FII holding in ICICI Bank rose by 1.55 percentage points to 36.4 per cent, followed by Infosys, whereby FII stake grew by 1.53 percentage points to 39.42 per cent.
FIIs also consolidated their stakes in Bajaj Auto, ONGC, Maruti Suzuki, State Bank of India (SBI), Sterlite Industries and Tata Power.
In contrast, foreign funds scaled down their holding in Hero MotoCorp by 0.87 percentage points to 32.34 and by 0.03 percentage points to 5.52 per cent in Coal India.
During the quarter, FIIs invested a hefty sum of a little over Rs 40,000 crore (Rs 400 billion) on the back of a slew of reforms initiated by the government, pushing the broader market Sensex to surge over 1,300 points or more than 7 per cent.