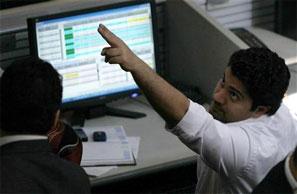 Indian markets are likely to remain under pressure in the trading sessions before the Lok Sabha election results, due to the mounting numbers of bearish derivatives bets by foreign institutional investors (FIIs).

Investors from abroad had sold index futures worth a little more than Rs 850 crore (Rs 8.5 billion) last week, while remaining net buyers in the cash segment. Market analysts said FIIs will continue to sell in the futures & options (F&O) market in the run-up to the election results on May 16.

Besides foreign flows, corporate earnings and US Federal Reserve chief Janet Yellen's testimony to the nation's legislature are also likely to impact investor sentiment.

"FIIs, who have been continuous buyers, have turned cautious ahead of the election results. Till the event (election outcome) passes, they could continue to sell index futures and book profits," said Ashish Chaturmohta, head (technical and derivatives analysis), Fortune Equity Brokers.

Benchmark indices fell 1.3 per cent last week — the BSE Sensex ended at 22,403, while the National Stock Exchange's Nifty closed at 6,694. FIIs were net buyers in the cash segment worth Rs 1,869 crore (Rs 18.69 billion) during the week.

"In the F&O segment, the open interest (total of unsquared positions)
is lower than usual, which means people have turned cautious prior to the election results. There is also profit-booking on the part of FIIs, which is why a lot of stocks have pulled back by five to 15 per cent," said Gaurav Dua, head of research, Sharekhan.
Analysts said the market could witness selling pressure if it breaches the key support level of 6,650. On the higher side, if the Nifty is able to breach 6,850-levels, strong buying could emerge, they said.
Some experts said the market performance could remain muted till the election outcome and it was difficult to get a handle on foreign investor strategy.
"We cannot with absolute certainty say what is driving FII activity. If they are selling here, they might have counter positions in the Singapore market," said Sandeep Singal, co-head (institutional equity), Emkay Global Financial Services.
Several blue-chip stocks — HDFC, Lupin, Ranbaxy, GSK Consumer, Union Bank of India, among others — are likely to react to their March quarter numbers.
Analysts have cautioned over the sharp run-up in stocks from the information technology, health care, infrastructure and financial sectors.
"While valuations are lower than average, they do not inspire confidence any more, as there has already been a sharp run-up in the market," said Prateek Agrawal, chief investment officer, ASK Investment Managers.