The number of people travelling by domestic airlines grew by over 13 per cent in October, as high demand during holiday season arrested a five-month downward trend, with low-cost carrier IndiGo retaining its position as the market leader.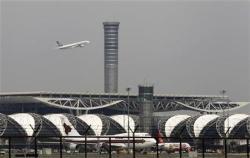 The total number of passengers carried by scheduled domestic airlines grew to 45.55 lakh (4.55 million) in October, from 40.18 lakh (4.01 million) in previous month, the Ministry of Civil Aviation said in a release.

IndiGo carried the largest 12.66-lakh (1.26 million) passengers, commanding a market share of 27.8 per cent in the month of October. Its market share has risen from 27.2 per cent in the previous month, when it had carried 10.94-lakh (1.09 million) passengers.

National carrier Air India also saw its market share growing from 19.3 per cent in September to 20.8 per cent, while its number of passengers rose from 775,000 to 949,000.

Private carriers like Jet Airways and SpiceJet also saw increase in their market shares and numbers of passengers in October, which is considered a holiday season due to various festivals.

In terms of market share, IndiGo was followed by Jet Airways and JetLite combined (24.7 per cent), Air India (20.8 per cent), Spice Jet (19.1 per cent) and GoAir (7.6 per cent).

Crisis-ridden Kingfisher Airlines, which once had second largest market share
but is currently grounded, did not fly any passenger in October. It had carried just 141,000 passengers in September with a market share of 3.5 per cent.
In a separate release, the ministry said that Civil Aviation Minister Ajit Singh has asked Air India to further improve its passenger load factor and on-time performance while implementing various customer friendly initiatives.
The carrier has undertaken measures like new fare schemes, improved aircraft utilisation and stopping free allowance for excess baggage in its flights, the release said.
Its market share has risen continuously in past six months from 16.2 per cent in May to 20.8 per cent in October.
Among others, Spice Jet carried 869,000 passengers while Jet Airways had 824,000 passengers (18.1 per cent market share), JetLite flew 300,000 passengers (6.6 per cent) and Go Air carried 347,000.
However, the total number of passengers between January to October 2012 fell 2.47 per cent to 483.94 lakh (48.39 million), from 496.19 lakh (49.61 million) during the corresponding period of the previous year.
All the airlines together had seen their total traffic decline by about 8 per cent or 351,000 passengers during the month of September.
The country's newest scheduled carrier Air Mantra of Religare group, which is operating only two small 17-seater aircraft since July 23 between Amritsar and Chandigarh, flew one hundred travellers in October.