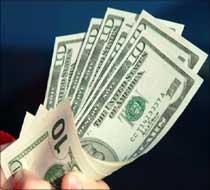 India's exports rose at an annual rate of 0.8% in January and imports for the month rose 6%, leaving a trade deficit of $20 billion, a senior trade ministry official said on Wednesday.

Exports between April and January fell 4.9% to $239.7 billion.

India's exports have fallen
since last year as demand slowed from major sales destinations, adding to the country's economic gloom and heightening worries about its trade and current account deficits.
The government is hopeful that exports in January will help close the trade gap, Commerce Minister Anand Sharma said.
Sharma said gold imports are a matter of concern and a balanced approach is needed towards gold import.