Imports rise at highest pace in more than 2 years as crude oil price spikes.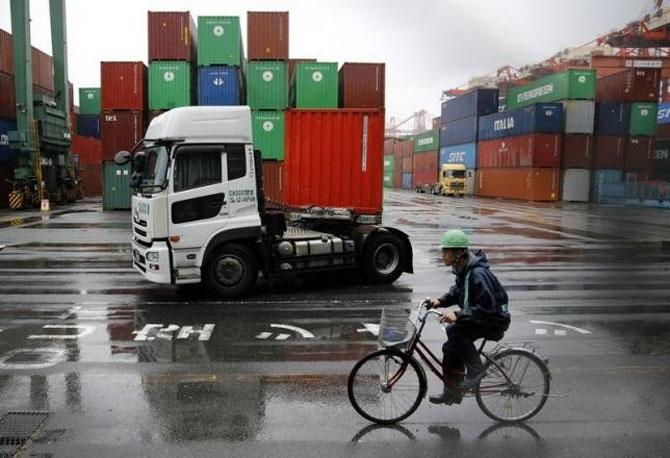 Rising for a fifth month, merchandise exports grew by 4.32 per cent in January against the 5.7 per cent rise seen in December.
Imports grew 10.70 per cent to $31.95 billion, the highest pace in more than two years, on account of a sharp uptick in international crude oil prices. The trade deficit widened to $9.84 billion in January.
Exports registered $22.11 billion in January after reaching a 21-month high in absolute terms in December to $23.88 billion, according to data issued by the commerce and industry ministry on Wednesday.
Import growth led to higher realisation from petroleum exports, which rose nearly 29 per cent in January, after rising 8.2 per cent in December. Among other major exchange earners, export of engineering goods rose 11.89 per cent while readymade garments rose by 2.13 per cent.
Total exports for the financial year up to January, the first 10 months, touched $220 billion, a marginal 1.09 per cent higher than the corresponding period in the previous year.
Rising protectionist measures globally had resulted in international trade growth estimates by the World Trade Organization falling to the range of 1.8-3 per cent for 2017. Earlier, the intergovernmental organisation had revised its estimates for growth in 2016 to just 1.7 per cent, the slowest since the financial crisis of 2009.
"Going by the current trend, we are expected to reach around $270 billion this financial year," said S C Ralhan, president of the Federation of Indian Export Organisations.
However, drugs and pharma exports went down by 11.58 per cent after rising by 12.5 per cent in December. The same was true for the gems and jewellery sector, which registered 4.49 per cent fall in exports after rising 27.9 per cent in December.
This is tied to lesser import of gold, which continued to go down in January, falling nearly 30 per cent to $2.91 billion. Import of the yellow metal shrank 48.5 per cent in December to almost $2 billion, from $4.4 billion in November, 23 per cent increase.
The November spike was partly due to demonetisation of high-denomination currency -- it resulted in a sharp diversion of old Rs 500 and Rs 1,000 notes to buy jewellery on backdated bills.
On the other hand, petroleum imports in January reached $31.95 billion, mainly due to an uptick in crude oil prices. Import of petroleum and other crude products rose by more than 61 per cent, significantly higher than the 14.6 per cent rise seen in December.
The Indian basket of oil prices have sharply risen to $54.79 a barrel, as compared to $44.46 a barrel in November and $39.8 in April.
However, non-oil, non-gold imports, taken as a measure of industrial demand in the country, continued to rise. It rose 4.16 per cent in January, after rising 4.4 per cent in December.
"The current account deficit is expected to rise sharply to $11-12 billion or 2.0 per cent of GDP in Q3 FY2017 from $3.4 billion in the previous quarter, led by higher gold imports and crude oil prices," said Aditi Nayar, principal economist at ICRA.