India's exports in October contracted 1.63 per cent year-on-year, for the sixth month in a row, to $23.2 billion, mainly due to the demand slowdown in the US and European markets.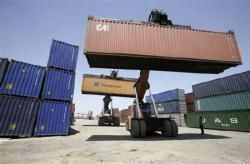 Exports on October 2011 stood at $23.6 billion.

However imports grew by 7.37 per cent to $44.2 billion in October, leaving a trade deficit of $20.96 billion.

During the April-October period of the current fiscal, the country's shipments have shrunk by 6.18 per cent to $166.92 billion. Imports during the period dipped by 2.66 per cent to $277.13 billion.

"The world trade is continuously contracting. Our integration with the world trade has increased so any
ripple worldwide will impact India's trade," Commerce secretary S R Rao told reporters in New Delhi while releasing trade figures on Monday.
He also said that the country's import bill has increased due to jump in the gold and petroleum imports.
During the first seven months of the financial year, the trade deficit stood at $110.2 billion.
Oil imports in October increased by 31.6 per cent year-on-year to $14.78 billion. However, non-oil imports declined by 1.73 per cent to $29.42 billion.
During April-October 2012, oil imports grew by 10 per cent to $95.5 billion from $86.8 billion in the corresponding period last year.
However, non-oil imports during the period dipped by 8.22 per cent year-on-year to $181.56 billion.