India's exports continued to decline for the fifth month, contracting 10.78 per cent to $23.69 billion in September due to slowdown in the western economies.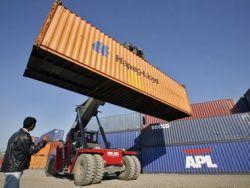 The exports in September 2011 had totalled $26.56 billion.

However, imports grew by 5 per cent to $41.77 billion from $39.75 billion in September 2011, resulting in a trade deficit of $18 billion for the month.

The decline in the country's shipments comes amid India's economic growth slipping to 5.5 per cent in the first quarter of this fiscal and subdued industrial output.

In April-September, too, the exports dipped by 6.79 per cent to $143.6 billion from $154.1
billion in the same period last year.
During the first six months of the fiscal, imports contracted by 4.36 per cent to $232.92 billion. Trade deficit during the period stood at $89.25 billion.
Oil imports during September increased 30.74 per cent to $14.09 billion from $10.77 billion in the corresponding period last year. Oil imports during April-September 2012-13 grew by 6.78 per cent to $80.78 billion.
Non-oil imports during the month under review dipped 4.46 per cent to $27.68 billion. During the first six months of the fiscal, the imports contracted by 9.38 per cent to $152.14 billion.