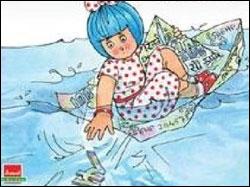 Leaders of Indian industry could contribute significantly to corporate social responsibility by adopting the methodology followed by Amul, World Bank Country Director Onno Ruhl on Friday said.

He recalled that Amul had pioneered inclusive growth through work with dairy farmers at grass-root level, changing lives, enhancing income, empowering women and at the same time reaping benefits to the business.

Companies through adoption of shared value concepts could tackle challenges of poverty and malnutrition in India, a official release quoting Ruhl said.

He was speaking at an orientation workshop on CSR (corporate social responsibility)
being organised by the Department of Public Enterprises in partnership with the World Bank.
The World Bank provides technical support to the DPE and as a part of its advocacy work, the lender shares the best global practices in CSR adopted by the developed and developing countries worldwide with DPE, the release said.
Minister of Heavy Industries and Public Enterprises Praful Patel has said India was a fast-growing economy with enormous entrepreneurial skills.
Leaders of the industry endowed with correct mindset had the potential to become world leader in harnessing CSR for inclusive growth and sustainable development, he said.