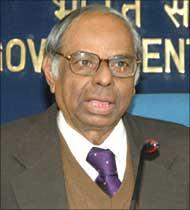 The economy is expected to grow at 5.5-6 per cent in the current fiscal and the next year will see a better rate of expansion, Prime Minister's Economic Advisory Council Chairman C Rangarajan said.
"I think the overall growth rate of the economy will be between 5.5-6 per cent," he said on the sidelines of the Delhi Economics Conclave in New Delhi.
Growth in the first half of 2012-13 has fallen to 5.4 per cent, from 7.3 per cent in the same period last fiscal. For the entire 2011-12 fiscal, the growth had declined to nine-year low of 6.5 per cent. The Reserve Bank, meanwhile, expects it to be 5.8 per cent in the current fiscal.
Rangarajan said: "The economy will do better in the second half. I think the manufacturing sector could grow...
at about three per cent this fiscal."
He said the reforms are again back on the forefront and "many measures have been taken. Therefore, I believe the sentiment is already changing. Going forward, the investment will pick up and we will see this particularly next year".
In the recent past, the government has taken a number of measures, including opening up of FDI in multi-brand retail and hiking foreign investment cap in the aviation sector, to boost economic growth and restore investor confidence.
Asked if the central bank could cut interest rate in the upcoming review of the monetary policy Rangarajan said: "I think RBI has expressed the intention that if the trends are in the right direction they will definitely act from January. Whether they will act now or not I am not sure."