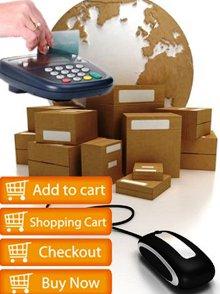 The government is yet to create a conducive environment for e-commerce firms operating in India.
India is a country in which retail inflation continues to be high and unpopular.
It is a country that has taken to the online world with great speed; younger consumers are comfortable spending time and money online, and their numbers are only growing.
It is a country with challenging distances and with many differing levels of availability for products.
All these things put together suggest that there is both extraordinary demand and a social need for more online shopping, not less.
Organised e-commerce will not only lead to an increase in consumer surplus and satisfaction, but will also help fix India's problematic supply chains.
And it would provide that little kick to demand that no country enduring a slowdown can afford to ignore.
And yet India's government has been persistently averse to creating an environment in which e-commerce can grow of its own accord.
It is worth noting that this sector asks for no great subsidies from the government, nor sops or concessions or tax holidays. Instead, what it wants, simply, is to be freed of government restrictions and harassment.
Yet the government is determined to harass it. It was reported last week that one of India's big four online retailers, Myntra, will be investigated by the Enforcement Directorate for possible violations of the Foreign Exchange Management Act.
Its rival, Flipkart, is already being investigated by the Enforcement Directorate.
The government's accusation is that e-commerce companies are taking money that has been invested by foreigners into their business-to-business operations – which is legal – and using it partly for their business-to-consumer operations – which is not.
This is, of course, a debatable distinction that seems to have been introduced merely to protect domestic bricks-and-mortar retailers — particularly the big organised retail chains, which are already facing hard times and are terrified of the threat that online retail poses.
The government must recognise that it cannot introduce poor policy and regulatory uncertainty into a sunrise sector and expect it to grow nevertheless.
Nor is it acceptable for it to protect entrenched interests at the cost of consumer welfare and the battle against inflation.
While the outgoing government may have staked its survival on the presence of foreign direct investment (FDI) in multi-brand retail, it nevertheless carved out too many exceptions. One such was for e-commerce.
The putative reason was to retain states' rights in allowing FDI on their territory. But e-commerce uses the postal system or courier system, and must logically be regulated nationally, not regionally.
This was a backward step that needed to be reversed a long time ago. Instead, the government has doubled down on these absurd, artificial distinctions, and chosen to go after successful Indian companies that are trying to carve out a niche for themselves in this competitive and challenging sector.
It is hard enough to make a profit in e-commerce without having to deal with excessive paperwork, legal fees and the constant threat of harassment by revenue officials.
The four major companies – Myntra, Flipkart, Jabong and Snapdeal, along with the new entrant Amazon India – have been forced into tortuous "marketplace" business models in which the great savings inherent in a unitary inventory and supply chain are denied to consumers. This state of affairs must end.