Domestic car sales declined by 5.36 per cent to 157,536 units in September 2012 compared to 166,464 units in the same month last year.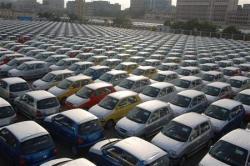 According to the data released by the Society of Indian Automobile Manufacturers (SIAM), motorcycle sales last month fell by 18.85 per cent to 753,693 units, from 928,716 units in the same month previous year.

Total two-wheeler sales in September 2012 decreased by 12.92 per cent to 1.07 million units from 1.22 million in August 2011.

However, total sales of commercial vehicles rose marginally to 70,683 units, from 70,658 units in the year-ago
period, SIAM said.
Total sale of vehicles across categories registered a dip of 9.43 per cent to 1.42 million units last month, as against 1.56 million units in September 2011, it added.