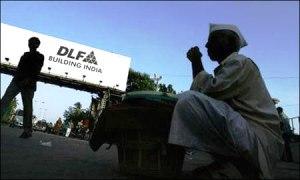 Realty major DLF has raised Rs 1,863 crore (Rs 18.63 billion) through issue of over 8.1 crore (81 million) fresh shares to institutional investors, enabling the company to dilute promoters stake to 75 per cent in line with Sebi's minimum public shareholding norms.

The funds will be utilised primarily to reduce debt, which stood at Rs 21,350 crore (Rs 213.5 billion) as on December 31, 2012.

DLF's Institutional Placement Programme, launched on May 14, was over-subscribed 1.82 times with the company receiving bids for over 14.81 crore (148.1 million) shares.

In a filing to the BSE late on Wednesday, DLF said that the "Equity Issuance Committee of the Board of Directors of the company finalised the issue price of Rs 230 per equity share."

DLF, country's largest realty firm, had fixed a price band of Rs 222-233 per share for the issue.

Share price of the company rose by 0.5 per cent at BSE to Rs 242.85 apiece.

The IPP was launched to meet market regulator Sebi's norm on minimum 25 per cent public shareholding by June 30 for private sector listed companies.

As on March 31, the promoters of the company have 78.58 per cent stake.

This is the third major fund raising exercise by the company.

DLF had launched Initial Public Offer at Rs 525 a share to raise over Rs 9,000 crore (Rs 90 billion) in 2007, while promoters had sold 9.9 per cent stake in 2009 for Rs 3,860 crore (Rs 38.6 billion).

In the offer prospectus, DLF had said that it will use the net proceeds of the issue for reducing debt and working capital requirement among other purposes.

DLF has been selling its non-core businesses since 2010 to focus on core business and cut huge debt.

It has raised about Rs 8,000 crore (Rs 80 billion) through this process so far.

The company plans to cut debt by half over next three years to about Rs 11,000 crore (Rs 110 billion).
Photograph: Arko Datta/Reuters