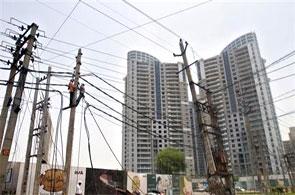 DLF Ltd is planning to sell up to 81 million shares and has mandated eight banks for the institutional placement sale, according to a term sheet seen by Reuters on Tuesday.
The price range and size are yet to be determined, according to the term sheet, which also did not specify the timeframe.
DLF picked Bank of America-Merrill Lynch, Deutsche Bank, JPMorgan and Standard Chartered, along with CLSA, HSBC, Kotak, and UBS to handle the sale, according to the term sheet.
Image: Employees from the electricity board work on overhead cables installed in front of the residential apartments constructed by Indian property developer DLF at Gurgaon, on the outskirts of New Delhi. | Photograph: Parivartan Sharma/Files