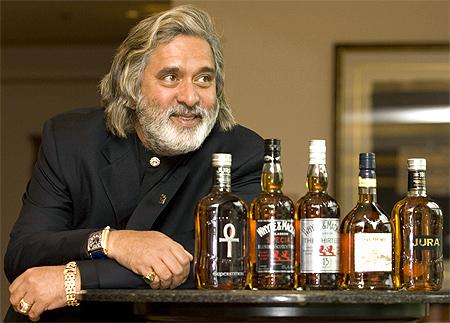 World's largest spirits maker Diageo Plc, which is in the process of acquiring majority stake in United Spirits, on Tuesday picked up more than 19 lakh shares of the Vijay Mallya-led distiller for over Rs 472 crore (Rs 4.72 billion).
Meanwhile, foreign fund house Morgan Stanley Asia (Singapore) Pte offloaded more than 39 lakh shares of United Spirits Ltd (USL) worth Rs 943 crore through open market at an average price of Rs 2,406.51.
According to the information available with the bourses, Relay BV, a wholly—owned subsidiary of Diageo, purchased 19,67,940 USL shares. The shares were acquired at Rs 2,400 apiece, valuing the transaction at Rs 472.31 crore.
Last year, Diageo had announced that it would pick up 53.4 per cent stake in USL in a multi-structured deal for a total of Rs 11,166.5 crore. As part of that deal, 26 per cent shareholding was to be acquired through an open offer.
Today's acquisition of shares through open market comes in the wake of Diageo's Rs 5,441 crore open offer which had elicited tepid response.
On November 8, Diageo had announced that it may not be able to fully-acquire the proposed 27.40 per cent stake in USL by the deadline of November 11. It could purchase only 25.02 per cent stake in USL since the remaining 2.38 per cent shareholding was pledged by the Vijay Mallya company.
The Diageo-United Spirits deal has run into regulatory hurdle with the British fair trade watchdog, forcing the spirits maker to offer selling bulk of Whyte & Mackay business.
Diageo sells various popular brands, including Smirnoff Vodka and Johnnie Walker whiskey. USL, which is India's top spirits maker, markets various liquor brands including Signature, Bagpiper, Antiquity and Royal Challenge.