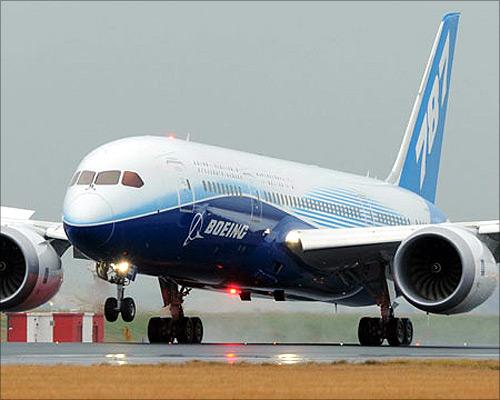 Days after its recent downgrade by the US aviation regulator, DGCA has set up two dedicated technical teams for surprise inspections on the aircraft of foreign airlines and charter firms and carry out extensive safety checks.
Official sources said on Monday that the airlines concerned will be penalised if discrepancies are found during the extensive safety checks of the foreign aircraft flying to India when they land.
In case of major lapses, the aircraft could even be grounded and its owners penalised, the sources said. The decision to set up the two teams in Delhi and Mumbai came against the backdrop of downgrade of Indian aviation safety mechanism by the US Federal Aviation Administration (FAA).
The sources said though safety checks were being carried out on foreign aircraft by DGCA personnel, it was decided to intensify the inspections by setting up two exclusive teams.
Over the past few months, six airlines, including Japan's All Nippon Airways, Sri Lankan Airways and Afghanistan's Ariana, have been penalised, the sources said.
The surprise safety checks are being carried out on the basis of Safety Oversight of Foreign Airlines (SOFA) programme and a checklist based on the recommendations of the UN agency International Civil Aviation Organisation (ICAO).
The checklist includes not only safety aspects on the flight deck, but also on the equipments fitted or not fitted in the planes like Airborne Collision Avoidance System.
The status of documents like the air operating certificate (AOC) or licenses of the cockpit or the cabin crew would also be under check, they said.
The deficiencies could be categorised into minor or major and the penalty could range from a mere warning to rectify the faults within a specific time-frame to the grounding of an aircraft or, in extreme cases, denying the airline the right to fly into India.
Once a deficiency is found in an aircraft, the concerned airline is informed of it, along with the action that was being contemplated or taken, the sources said, adding that the airlines are asked to take corrective measures within a given time frame.
The ICAO guidelines and standards have to be followed mandatorily by all airlines across the world, they said. The FAA downgrade last month implies that all Indian flights to the United States would be subject to extensive checks.
Other aviation regulators like those of Europe, Singapore or Japan could follow suit and conduct additional safety checks on Indian planes, the sources said.