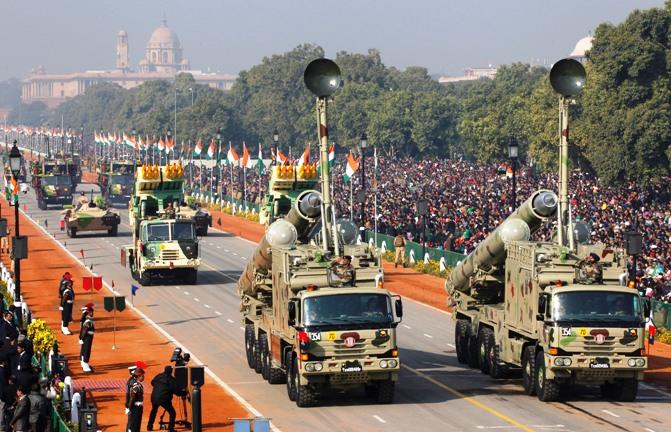 The Centre announced on Wednesday it had raised the composite cap on foreign investment limits in the defence sector from 26 per cent to 49 per cent.
However, experts believe that the move would not result in much overseas money inflows. "Management control will remain in Indian hands.
All proposals above 26 per cent will have to obtain approval from FIPB (Foreign Investment Promotion Board)," a senior official told Business Standard.
The official added that proposals above 26 per cent will be approved on a case-to-case basis.
This was apparently done keeping in mind "national security concerns because it (defence) is a highly sensitive sector".
Apparently, the limit has been raised without any condition on mandatory technology transfer.
The government now hopes that foreign defence equipment makers will set up manufacturing facilities here, reducing the country's dependence on import.
India is one of the largest military equipment importers in the world, at over $8 billion a year. Its defence budget has grown at an average of 13.4 per cent annually since 2006-07.
"Good development but not great," said Amber Dubey, partner and India head of aerospace and defence, KPMG.
"Forty-nine per cent is the same as 26 per cent technically and, hence, might not open the investment floodgates."
"It could create the same issues of 'sleeping partners' and 'effective control' with foreign companies as we have seen in the case of the airline sector. The best option would have been allowing 74 per cent FDI with adequate checks and balances like domestic staffing, domestic value addition and controls over exports."
Dubey also stated that although India imports fully built fighter jets, attack helicopters, aircraft carriers and submarines from original equipment manufacturers, it should not be an issue to let them set up shop here with full ownership and control.
In July last year, former UPA government in a high-level meeting under then Prime Minister Manmohan Singh had also allowed hike in FDI limit in the defence sector. But the proposal was not passed by the Cabinet officially.