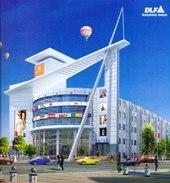 CCI's decision to modify realty major DLF's apartment buyers agreement in relation to a case involving Rs 630 crore (Rs 6.3 billion) penalty on the firm has sparked a debate about the fair-trade regulator's jurisdiction and other matters concerning the real estate sector.

The Competition Commission of India passed a supplementary order last week to modify the agreement between DLF and its apartment buyers, pursuant to a direction from Competition Appellate Tribunal that is hearing the company's appeal against monetary penalty and other sanctions imposed on it by CCI for abuse of market dominance.

Legal experts and former CCI functionaries, however, are of the view that COMPAT needs to first decide on issues such as jurisdiction, relevant market, dominance and abuse of dominance before deciding on modifications in model agreement.

According to former CCI Chairman Vinod Dhall, competition authorities are usually not required to indicate how an agreement, held to be anti-competitive, should be modified as that exercise is to be undertaken by the parties concerned.

"This case therefore seems to be taking a strange course, and it is clear that the case still has a long journey ahead till it reaches a final conclusion," Dhall told PTI.

Senior lawyer and an eminent competition law expert Anand Pathak said that the CCI's supplementary order of January 3 in DLF case 'interprets and applies the Competition Act incorrectly for at least three reasons among many others'.

Pathak said the Competition Act does not give the CCI the liberty to redraft an entire agreement for the parties and its decision to modify the DLF buyers agreement is 'internally inconsistent' with its own decisions.

He further said that CCI was asked by COMPAT to merely determine the 'manner and extent of the modifications' and it was not required to re-write the entire agreement.

"In conclusion, antitrust intervention must be tempered and tailored to achieve competition goals.

"One such goal is freedom of negotiation and contract -- only then can parties achieve the efficiencies envisioned by the Act," Pathak said, while adding that DLF case was always in essence a consumer protection case and not a competition law case at all.

According to Dhall, CCI's supplementary order has been passed consequent to a COMPAT direction to specify the extent and manner in which the terms of the agreement between DLF and the buyers should be modified keeping in mind modifications suggested by the parties to COMPAT.

"Thus this supplementary order continues to be part of the appeal before the
COMPAT, which will pronounce its verdict in the matter," he added.
CCI said in 104-page supplementary order on January 3 that the apartment buyers agreement has been amended to remove the 'abusive and unfair conditions present in the original one-sided agreement' and the modifications have been done taking into account the interest of both parties.
The original order was passed by CCI on August 12, 2011 following its inquiries into complaints filed by flat buyer associations of two DLF projects in Gurgaon -- DLF Park Palace and The Belaire -- alleging delays in the project and increase in the number of floors than planned earlier, among others.
According to senior Advocate Meet Malhotra, who represents the flat buyer's association, CCI's latest supplementary order validates the case of the flat owners.
"In the face of a clear indictment of their conduct, DLF are now clinging to straws and banking on technicalities to rescue them from the rapidly tightening noose of the law," he said.
CCI has been flooded with complaints against various builders since it passed an order against DLF in August 2011, but many of them have been dismissed on various grounds.
Recently, CCI Chairman Ashok Chawla had said the modified agreement in the DLF case could work as a model framework for commercial agreements between real estate developers and property buyers and could serve as a benchmark for the industry, if it stands judicial scrutiny.
"Whether a real estate company is dominant or not, DLF was found to be dominant because it was big, most of them follow the same format pattern that flows from big players in the market," Chawla had said.
However, legal experts are of the opinion that COMPAT also needs to decide on various issues like jurisdiction, relevant market, dominance and abuse of dominance, besides any modifications in the model agreement.
It has been said that the CCI's definition of relevant market has been inconsistent in different cases, although the regulator has been flooded with cases against various builders post DLF case.
According to sources close to DLF, the company is of the view that CCI is interpreting laws related to apartment ownership in Haryana, but it is up to the state agencies to decide whether the developers are in compliance with the laws related to them.
They also said it is difficult to understand how a model agreement can be implemented in other states, as each state has its own laws for real estate development, while adding that Compat had only directed CCI to express its views on the modification suggested by the parties without prejudice to the rights of either the complainant or the developers.