Daiichi Sankyo has claimed damages arising from its settlement with the US authorities, says a source.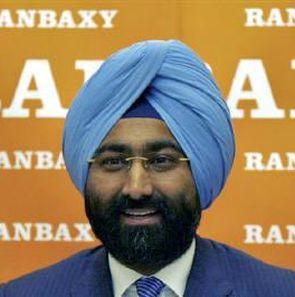 Daiichi Sankyo, the Japanese parent of Ranbaxy Laboratories, has dragged the latter's previous promoter Malvinder Mohan Singh to a court in Singapore for concealing and misrepresenting critical information relating to the US Food and Drug Administration and Department of Justice investigations at the time of the purchase, sources say.

In 2008, Daiichi Sankyo had bought the entire 34.82 per cent stake in Ranbaxy from its promoters, Malvinder Mohan Singh and family, for $4.2 billion. Currently, Singh is executive chairman of Fortis Healthcare.

According to a source privy to the development, Daiichi Sankyo has claimed damages arising from its settlement with US authorities.

A detailed e-mail query sent to Singh on Saturday did not elicit any response till the time of going to press.

On Sunday, his office told Business Standard he was travelling and could not be reached. Maintaining its stand of pursuing legal options against former Ranbaxy shareholders, Daiichi Sankyo said, "As Daiichi Sankyo announced on May 22, 2013, there is no further comment on this matter."

On May 22, the company said it "believes certain former shareholders of Ranbaxy concealed and misrepresented critical information concerning the US DoJ and FDA investigations.

Currently, Daiichi Sankyo is pursuing available legal remedies and cannot comment further on the subject at this time".

According to the source, the agreement signed between Daiichi Sankyo and the former promoters of Ranbaxy in 2008
has a provision that any future arbitration related to the deal will be pursued in Singapore, in accordance with commercial arbitration rules.
It also prohibited either party from disclosing any information related to the legal proceedings while the arbitration was underway, the source said.
Ranbaxy, which pleaded guilty in the US of making fraudulent statements related to testing of drugs for securing approvals, had to pay a fine of $500 million to the authorities in that country.
Daiichi on April 29, about a month before it first indicated it was evaluating legal action against Ranbaxy's former shareholders, had filed five caveats in the Delhi High Court, seeking to prevent a stay order being issued against it without being heard.
Corporate war imminent


Industry observers say the litigation between the current owners of Ranbaxy and its former promoters is likely to be stretched and might become a major corporate war. "Daiichi Sankyo is a big international player and if they are feeling cheated, they will not let it go so easily.
"Ranbaxy was one of the costliest deals of the time and Daiichi had to pay a hefty penalty of $500 million for what they believe were misdeeds of the past.
"The reputation damage is over and above all this," says a pharma industry veteran.