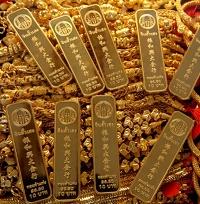 The government will consider relaxing curbs on gold import once the fiscal situation becomes more comfortable, Finance Minister Arun Jaitley said.

"Not at the moment (easing curbs on import of gold). . . if our situation gives me more comfort level, obviously these are flexible polices.

"They are not engraved in stone that you can't change them," Jaitley told PTI in an interview.

He, however, said the government has to be careful on current account deficit and fiscal deficit.

"On both CAD and fiscal deficit, I think we will have to be cautious and careful," he said.

In order to check rising current account deficit, the government had raised import duties on the yellow metal to 10 per cent while Reserve Bank of India imposed curbs on import of gold and also laid down various pre-conditions for inward shipments of the precious metal.

As a result of combined efforts, imports of gold has been declining.

They fell by 72 per cent to $2.19 billion in May because of restrictions imposed by the government.

India's CAD, which is the excess of foreign exchange outflows over inflows, touched a historic high of 4.7 per cent of gross domestic product in 2012-13, mainly due to rising imports of gold and petroleum products.

During 2013-14 India's CAD sharply narrowed to 1.7 per cent of the GDP or $32.4 billion.

For the January-March quarter, CAD stood at $1.2 billion or 0.2 per cent of GDP, as against $18.1 billion, or 3.6 per cent of GDP in the same period of the previous fiscal, according to the RBI.

The highest ever CAD reported in 2013-14 had led to a slew of problems, including a heavy drop in the value of rupee, which touched an all-time low of 68.85 against the US dollar last August.

However, it has strengthened since then and is hovering around the Rs 60 mark.