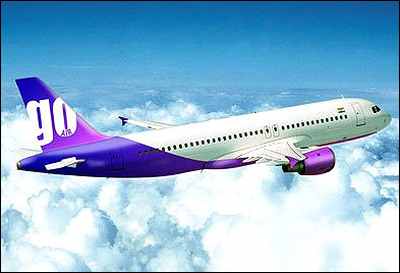 GoAir aimed to grow its revenue by over 36 per cent and carry over 6.7 million passengers in 2014-15 with increased capacity, better loads and improved corporate sales, the airline's chief executive officer Giorgio De Roni said. The airline made profits in 2013-14, but they were lower than the Rs 104 crore (Rs 1.04 billion) of 2012-13.
GoAir is in talks with foreign airlines for a strategic investment but De Roni said the airline was not under pressure to sign a deal and a partnership would be struck only if the chemistry was right.
The Wadia Group that owns GoAir infused Rs 30 crore (Rs 300 million) last July, increasing its equity in the airline to Rs 100 crore (Rs 1 billion).
GoAir has over Rs 500 crore debt (Rs 5 billion), according to its 2012-13 annual report.
De Roni said there was no immediate funding requirement for the airline and it enjoyed good relations with lenders and lessors.
In 2013-14 the airline carried 5.5 million passengers and it hopes to transport a million more this year. GoAir is India's smallest airline, excluding AirAsia India which began flying in June, and has a market share of 10.1 per cent. It will receive its 20th Airbus A320 in October.
GoAir earned Rs 2,500 crore (Rs 25 billion) in 2013-14 and is expecting Rs 3,400 crore (Rs 34 billion) this year as it increases its load factor from about 75 per cent to 80 per cent.
De Roni admitted the revenue growth target was ambitious but said, "The average fare in July was about 10 per cent year higher than last year. We are on track to achieve the target."
GoAir hopes to fly 15 million passengers by 2016-17, serve 30 destinations, up from 21 now, and will remain a largely domestic airline.
Rules do not allow GoAir to fly abroad now but it can start an overseas service with a 20-plane fleet.
De Roni said the airline would deploy 13 per cent of its capacity on international routes over the next three years.
GoAir has placed an order for 72 Airbus A320s and will receive 17 of them over 2016 and 2017.
"We are the smallest player and we can not compete with other airlines in frequency and network.
But we can compete in quality of service. We have had the least number of passenger complaints in the last year and we can say our quality of service has paid," De Roni said.
GoAir doubled its corporate sales last year as competition for business travellers intensified amongst airlines, De Roni said.
Typically corporate travel plans provide companies with a fixed fare which is lower than a retail fare, waivers from rebooking and cancellation charges, free on board meals and preference seating.
Airlines look to increase corporate business as it not impacted by seasonality.
GoAir has a business class product called GoBusiness and sells only eight seats in the two front rows of its Airbus A320, keeping the middle seats vacant.
The airline is also marketing this product amongst single women travellers and senior citizens who require extra attention.
The airline has also hired a consultant to advise it on marketing strategy and branding and is upgrading its on board menu.
"Operationally and financially GoAir has been stable but it will be challenging year with launch of new airlines,'' an aviation expert quipped. " Economic recovery remains sluggish and conditions may not improve substantially until the third or fourth quarter. As a result domestic traffic growth in FY15 is expected to be modest...
The structural viability of airline business models will continue to face pressures as costs are expected to increase while yields are likely to remain soft with new entrants coming into the market.
Combined airline losses are expected to reach $1.3-1.4 billion,'' Centre for Asia Pacific Aviation said in its FY 2015 India outlook.
GoAir is a member of Federation of Indian Airlines which has filed petitions against the grant of permission to AirAsia and Tata Singapore Airlies but De Roni refused comment on issue saying it was not for individual airlines to comment on the topic.
"I try to learn from competition, analyse and try to do better than them. I am not scared of competition,'' he remarked.