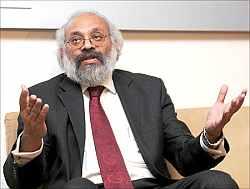 Reserve Bank Deputy Governor Subir Gokarn said there is need for a vibrant corporate bond market for financing infrastructure projects.
"The current debate (over developing a sound corporate bond market) is significantly driven by infrastructure financing," Gokarn said, addressing a conference on bond markets organised by the BSE in Mumbai.
He said the government's target to invest around $1 trillion in the next five years in the infra sector would materialise only with the development of a strong corporate bond market.
The fact that foreign capital is going to play a major role in the infrastructure financing apart from the domestic capital, there is a need for facilitation channels for this capital, Gokarn said.
During the 12th Plan, the country aims to invest $1 trillion in the infrastructure sector.
The Deputy Governor also pointed out that East Asian economies like Malaysia and Thailand have effectively developed a vibrant bond
market.
He also said there should be more diversified liquidity in the government bond market without skewed trading in 10-year benchmark G-Secs. At present, the 10-year benchmark sees the highest amount of trading with lesser liquidity in other dated securities.
Referring to regulatory facilitation in this regard, Gokarn said various regulators have to work in tandem to develop an effective bond market.
The Deputy Governor, who is also in-charge of monetary policy in the central bank, said an effective bond market can transmit the monetary policy much faster than the banks.
"One of the concerns that have come up in the recent years is that banks, which dominate the spectrum, are very slow transmitters. They simply don't react to policy actions and so policy actions sometimes don't translate into market outcome," said Gokarn.
However, he said, one of the big constraints in terms of policy action to market outcomes is the uneven nature of liquidity across the bond market.