The strong demand for coal will continue, as India fails to produce as much fuel as it targets.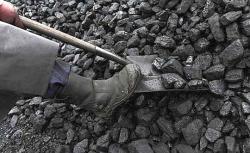 Coal miners should be thankful that their Indian counterparts consistently fail to produce as much of the fuel as they plan to, as rising imports in the South Asian nation are helping support prices.

India's imports jumped 39 percent to 12.7 million tonnes in December from the same month a year earlier, and trade sources believe they reached about 16 million tonnes in January.

So far, India's imports for the fiscal year that started in April are 28.2 percent higher from the same period a year earlier at 102.7 million tonnes, boosted by shortfalls in local output.

Domestic production was 52.6 million tonnes in December, flat from a year earlier, and 6.1 percent below the official target.

Rising Indian imports, coupled with record Chinese imports, have boosted the Newcastle spot price, the regional benchmark, which has gained almost 18 percent since October's three-year low to reach $95.02 a tonne last week.

India aims to produce 575 million tonnes of the fuel in the 2012-13 fiscal year, which ends in March, but so far has reached only 66 percent of the target, or 404.05 million tonnes.

This means 171 million tonnes will have to be mined in the first quarter of 2013, which is unlikely, and the government may miss its goal by around 50 million tonnes.

This inability to meet targets will add to the overall coal deficit and make it more likely India will increasingly turn to imports.

This will especially be the case if the country makes faster progress in installing power capacity, with the bulk of planned generators being coal-fired.

However, of all the uncertainties that surround the energy outlook in India, there is one certainty, and that is delays.

The massive blackout last July emphasised just how far the country still has to come in terms of building generators and the transmission network.

While installed capacity has grown 35 percent to 205,000 megawatts (MW) in the past five years, there are still peak demand shortfalls of as much as 10 percent.

Plans to build so-called ultra-mega coal-fired plants of up to 4,000 MW each are largely stalled
or progressing slowly.
But over time it's likely that India will manage to increase its generating capacity, and it's equally likely that domestic coal output will continue to fall short of targets, as the quality and quantity of reserves is diminishing.
India's coal shortfall will be about 192 million in the fiscal year to March 2013, according to the coal ministry.
Failure to achieve domestic output targets will be widening that shortfall, adding to demand for imported fuel.
This gives India the potential to become a rival to China, currently the leading coal importer in Asia, which is trying to limit its reliance on the fuel by concentrating on building natural gas, nuclear, hydro and renewable power generation.
China is still likely to increase its coal imports in the next few years, based on its plans to build new coal-fired generators and limit domestic output, but it's also likely that India's import growth rate will become the faster of the two.
China plans to have 960,000 MW of coal-fired capacity by the end of 2015, a net increase of 280,000 MW on the end of 2010.
It also plans to cap annual coal production at 3.9 billion tonnes by 2015, having produced 3.66 billion tonnes in 2012.
The additional power capacity may consume as much as 700 million tonnes of coal annually, based on using 2,500 tonnes of coal a year to produce 1 MW, a rate a modern coal plant should be capable of achieving.
If China does build 280,000 MW of new capacity by 2015 and limit domestic output, it implies coal imports will have to rise to perhaps as high as 400 million tonnes a year, a gain of 70 percent on 2012's 235 million tonnes.
Even assuming a more modest outcome of capacity addition, it still implies that China will continue importing coal at least at the current rate, with the risks balanced to the upside, in the next few years.
Coupled with India's rising imports, the longer-term demand outlook remains solid in Asia, and while global supplies are currently adequate, this may not be the case in the next few years.
High capital and labour costs are delaying projects from Australia to Mozambique, while Indonesia, the largest exporter of thermal coal, is pursuing a legislative agenda designed to keep more coal for domestic use and give locals a bigger share of mining operations.