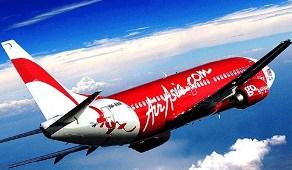 Delhi High Court on Wednesday directed the Centre to respond to a plea filed by Bharatiya Janata Party leader Subramanian Swamy seeking quashing of permission given to AirAsia for its operation in India.

The court, however, declined to stay the permission given by the government for the deal and said it was only issuing notices as of now.

The bench of Chief Justice N V Ramana and Justice Pradeep Nandrajog issued notices to the Centre, Foreign Investment Promotion Board and Commerce and Civil Aviation ministries and sought their responses by October 30.

It asked the government to 'file an affidavit explaining the government's policy on the issue'.

In April, the FIPB gave clearance to the $30 million deal between Malaysia-based AirAsia and Tata Sons.

The petition opposes the clearance to the deal on the ground that as per the policy cleared by the Cabinet, foreign direct investment up to 49 per cent is allowed in existing airlines which are already in operations and not to new or proposed joint ventures.

The policy was brought to boost the aviation industry which was undergoing financial crisis, the petition said.

Swamy in his PIL alleged that it is 'clearly contrary to the Foreign Direct Investment policy' and also against 'the guidelines notified by the nodal ministry, the Union Ministry of Civil Aviation, which does not permit foreign investment by a foreign airline, in such a greenfield airline'.

Appearing for AirAsia, senior advocate Abhishek Manu Sighvi argued that the petition was 'motivated' and that 'the object of PIL is to create a cloud over the deal so that the project does not go forward'.

Singhvi said the company's application for flying licence is still pending and hence the petition was 'premature'.

Swamy, in his petition, also alleged that FDI policy requires that 'effective control'
of the joint venture will be vested with Indian nationals.
He alleged that the joint venture, in which Tata Sons Ltd has 30 per cent stake, Arun Bhatia-led Telestra Tradeplace Pvt Ltd 21 per cent and AirAsia the majority share holder with 49 per cent stake, is to start the operations in India contrary to the foreign direct investment policy.
AirAsia Berhad, a public listed Malaysian company which operates 'AirAsia' through its wholly owned investment vehicle Air Asia Investment Ltd had in February entered into an agreement with Tata Sons Ltd and Telestra Tradeplace Pvt Ltd to set up a joint venture company for passenger airline business in India.
Swamy had earlier approached the Supreme Court which asked him to move the Delhi High Court with his plea against the clearance given to AirAsia.
The apex court had said it was not making any observation on merits of the matter and asked Swamy to move the high court which can hear him in detail.