Drug-maker Cipla today said it has appointed Subhanu Saxena as the chief executive officer of the company.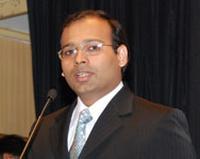 The appointment is effective from February 1, 2013.

Saxena has more than 25 years of work experience. He has worked with companies such as Citicorp, The Boston Consulting Group and PepsiCo, across markets in Europe, North America, Africa and Asia, Cipla said in a statement.

In his last assignment,
he led the global product strategy and commercialisation functions at Novartis Pharma AG. In this role, he was a part of the Global Pharma Executive Committee, with responsibility for marketing, sales, global medical affairs and health economics, it added.
Saxena has a graduation degree in engineering from Oxford University and an MBA from INSEAD, France.
Saxena said: "Cipla has achieved several milestones but a wider canvas lies ahead in terms of opportunity and areas for growth."