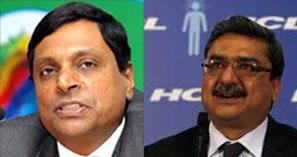 The chief executive officers of Indian IT giants Wipro and HCL Tech are among this year's recipient of leadership awards given by the UN's body on women for their work on principles of women's empowerment and helping champion gender equality.
Wipro CEO and board member T K Kurien and HCL Technologies president and CEO Anant Gupta have been awarded with the Women's Empowerment Principles (WEPs) Leadership awards.
Kurien and his company have been recognised with the WEPs 'Cultural Change for Empowerment Award 2014' for proactive commitment to gender equality throughout business operations and developing innovative programs that respond to women's multiple responsibilities and societal expectations, said a statement from UN Women.
Gupta and HCL Tech are recognised with the '7 Principles Award 2014' for developing and implementing a comprehensive strategy that integrates the WEPs principles within the company's internal operations, while externally supporting and strengthening gender equality in its communities.
The two CEOs were among the five recipients of this year's honours which include Coca-Cola and its CEO Muhtar Kent, investment management company Pax World and its president and chief executive officer Joseph Keefe.