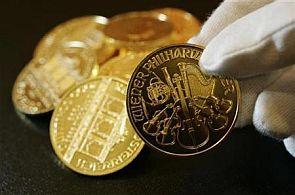 Finance Minister P Chidambaram on Tuesday ruled out the possibility of lifting a ban on import of gold coins and medallions and asked banks to strictly follow guidelines restricting inward shipments of the metal.

"Import of gold coins and gold medallions is prohibited. Nobody can import gold coins and medallions," he said, referring to a suggestion that the government should allow import of coins for 'shagun' (auspicious gift) purposes.

He said traders can buy gold from the domestic market and make coins, but the government will not relax the curbs that were imposed to contain the current account deficit.

Chidambaram said banks have been asked to strictly adhere to the norms on gold imports.

"I have asked banks to be very strict, at least for gold importing banks, to be very strict on gold imports.

"They have to scrupulously follow the RBI and government guidelines," he said.

High gold imports of 845 tonnes was one of the main reasons that pushed the current account deficit -- the difference between the inflow and outflow of foreign exchange -- to a record high of 4.8 per cent of gross domestic product, or $88.2 billion, in the previous financial year.

Both the Reserve Bank of India and the government have taken a slew of measures to curb gold imports to narrow the CAD to $70 billion or 3.7
per cent of GDP this fiscal. Gold imports touched a high of 162.4 tonnes in May and fell to 7.2 tonnes in September.
The government expects gold imports to come down to 800 tonnes this fiscal.
Chidambaram said housing loans recorded a healthy growth in the first and second quarters and rose by 42 per cent and 61 per cent, respectively.
Growth was also observed in education loans, he said, adding that banks have been asked to meet the lending target with regard to minorities.
The minister said public sector unit banks will open 10,000 new branches and set up 34,668 on-site ATMs during the course of the current financial year.
Referring to the current account deficit, Chidambaram said the government does not intend to lift the ban on gold coins and medallions.
The government had imposed restrictions on import of gold To contain the CAD, which widened to an all-time high of 4.8 per cent of GDP in 2012-13. In the current fiscal, CAD is expected to narrow to below 3.7 per cent of GDP.
Elaborating on non-performing assets, Chidambaram said it is a "function of the slowdown in the economy. . .In the year 2000, NPA was 14 per cent. . .gross NPAs came down to a low of 2.09 per cent in 2008-09.
"Since then, it was flat for two years and then the slowdown pinched and it slowly started creeping up.
"It is not a sharp rise -- it is a rise still and this is what is a matter of concern."