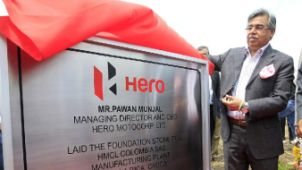 In February this year, Pawan Munjal, the 59-year-old chief executive officer and managing director of Hero MotoCorp, had an unusual standoff.
It was on the greens at the Delhi Golf Club. An avid golfer, Munjal had invited Tiger Woods to visit India.
That morning, rather nervously, he teed off with the world's most famous name in the game and went on to complete an 18-hole round with Woods.
Later, drawing a parallel between the occasion and his company, Munjal was quoted in a media interview as saying, "I think Hero performs better under pressure."
Having been named the vice-chairman and managing director of Hero MotoCorp earlier this week, Munjal will have to ensure that the company performs well no matter what the pressure.
The company has history on its side.
In December 2010, when Hero announced it was to part ways with Japanese two-wheeler company Honda, the market was rife with speculations of a dire future for the Indian company without its erstwhile partner.
Honda supplied technology for products that Hero largely localised for the Indian market.
Would the Munjals be able to retain their stranglehold in the business by buying off-the-shelf technological expertise from global engineering houses?
Four years on, Hero has hung on. The company has managed to maintain its market share in motorcycles at 54 per cent. True, Honda Motorcycle and Scooter India's share in the segment has doubled in the intervening years, but as of the first quarter of 2014-15, Hero continues to lead over its rival by incremental sales of more than a million units.
Honda also remains a major force to reckon with in the scooter segment with growth of 33 per cent at a time when the industry is growing by around 28 per cent.
This has increased its overall share in sale of two-wheelers to 24 per cent against Hero's 42 per cent. Munjal has readied an onslaught against rivals with four new models - Dash, Dare, Leap and Zir - to be launched in the category in 2015-16.
A graduate in mechanical engineering, Munjal has spent most of the last four years fortifying Hero's R&D capabilities, forging alliances with global tech partners - EBR (the US), AVL (Austria), Engines Engineering (Italy) and Milan's Magnetti Marelli.
An integrated R&D facility called the Hero Centre for Global Research and Design - the largest for any two-wheeler company in the country - is coming up at Kukas near Jaipur in Rajasthan. Yet Hero's appetite for innovation and technological excellence remains unsated.
In an earlier interview to Business Standard, Munjal said, "Inorganic growth is now a way of life at Hero, so I am constantly travelling and looking out for new opportunities and right partners. The pace of acquisition will depend on what we find and when and where."
Munjal's vision is to make Hero a global brand. So while the company has already sailed out to storm Bajaj Auto's dominance in international markets, it is striving to roll out cutting-edge products from the Hero stable.
Hero today sells its products in 19 countries across Asia, South and Central America and Africa. The target is to log around 10 per cent of annual sales of 12 million in global markets by the end of the decade.
The company is set to commission manufacturing units in Colombia and Bangladesh in 2015-16 and has tied up with local distributors for assembly facilities in Kenya, Tanzania and Uganda. Munjal says he plans to have in place 20 manufacturing/assembly units to expand its presence in 50 countries in a decade.
Brijmohan Lall Munjal, chairman of Hero Motocorp, is confident Pawan, his third son, will lead the company to a bright future.
"This is an acknowledgement of his inspiring leadership and progressive vision...," the 91-year-old said on the elevation of Munjal as vice-chairman.
"Undoubtedly, there are challenging times ahead and yet, under the leadership of Pawan, the future looks promising as well as exciting. It is, therefore, the right time to strengthen the hands of Pawan."
While Munjal's eldest brother, Raman, is deceased, his older brother, Suman, is a non-executive director at Hero MotoCorp as well as managing director of Rockman Industries. His younger brother, Sunil, is joint managing director of Hero MotorCorp and also the head of Hero Corporate Services.