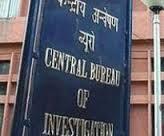 The Central Bureau of Investigation has registered two preliminary inquiries against private general insurer ICICI Lombard General Insurance and a few Union agriculture ministry officials for alleged misappropriation in two insurance schemes -- Rajiv Gandhi Shilpi Swasthya Bima Yojana and a weather-based crop insurance scheme.

The CBI alleged in 2009-10, of the 3,158 farmers registered in the weather insurance scheme in Rajasthan's Ganganagar district, 2,093 were non-existent, and this had led to a loss for the exchequer.

Sources said the Insurance Regulatory and Development Authority's vigilance department was looking into these complaints and had carried out inspections in this regard.

A senior Irda official said inquiries were conducted at two stages. While the first had been completed, the second, inspection of the insurer's books of the insurer, was being carried out by Irda.

A final report on the matter would be brought out after
both the inquiries were completed.
A CBI official said the data showing misappropriation related to the Ganganagar district alone.
The agency will carry out similar probes in other districts and states where the insurance company had undertaken this scheme.
The CBI also alleged 11,000 artisans registered under the Rajiv Gandhi Shilpi Swasthya Yojana were non-existent.
An ICICI Lombard company spokesperson said in these cases pertaining to 2009-10, the company had settled claims in excess of the premia received, resulting in losses.
"As part of its continuous-monitoring approach, the company, during or after the enrolment of beneficiaries, had initiated an investigation on its own, through its in-house investigation function.
"Wherever any discrepancy was observed, the company, on its own, approached the government body concerned, sought necessary advice and promptly acted upon the advice received.
"The company also adhered to the policy guidelines and abided by the directives/suggestions of relevant authorities," the spokesperson said.